---
---
close
---
Dr. Donald Kaberuka conferred the title of Commander of the National Order of Merit of Mali
---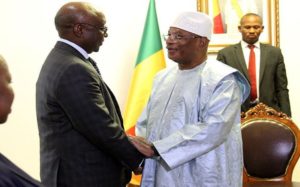 His Excellency, Ibrahim Boubacar Keita, President of the Republic of Mali, has granted an audience to Ms. Bintou Keita, The United Nations Assistant Secretary-General for Peacekeeping Operations and Dr. Donald Kaberuka, The High Representative for Financing of the African Union and the Peace Fund.
Dr. Donald Kaberuka has also been conferred the title of Commander of the National Order of Merit as a foreign citizen.
"I feel deeply honored with this title granted by the President of the Republic. As the President of the African Development Bank for ten years, I made my modest contribution to the development of African countries, including Mali. But when I left the AfDB, I continued to serve Africa through other roles, especially for funding for the African Union (AU). "
Dr. Donald Kaberuka has promised to continue to be committed to this distinction.
The President of the Republic Mali and others have exchanged the opinions concerning the following topics:  financing for peace in Africa, the African Peace Fund, and the cooperation with the UN in terms of funding.
---
Share this article